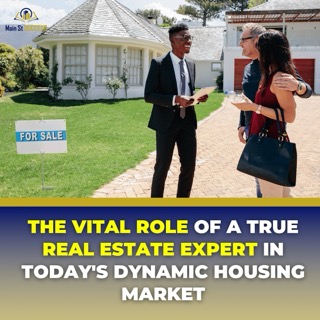 Real estate expert
The housing market is a complex and ever-changing landscape, particularly in today's dynamic environment. As a buyer or seller, navigating the nuances of the real estate process can be daunting, but it doesn't have to be. Partnering with a true real estate expert can provide the invaluable guidance and support you need to make informed and confident decisions.
Why is a real estate expert so important in today's market?
The housing market is constantly evolving, and it can be difficult to keep up with the latest trends and developments. A real estate expert has the knowledge and experience to help you navigate the current landscape and make the most of your opportunities.
In today's market, it is more important than ever to have a real estate expert by your side. Here are just a few of the benefits:
Expertise and knowledge: Real estate experts have a deep understanding of the market, including local trends, home prices, and housing supply. They can use this knowledge to help you find the best deals or get the best price for your home.

Negotiation skills: Real estate experts are skilled negotiators who can help you get the best possible deal on your home purchase or sale. They know how to advocate for your interests and protect your rights.

Guidance and support: Real estate experts can provide you with guidance and support throughout the entire process, from finding the right home to closing the deal. They can help you understand the paperwork, answer your questions, and resolve any issues that may arise.
How to choose a real estate expert
When choosing a real estate expert, it is important to consider the following factors:
Experience: Look for an agent with several years of experience in the local market.

Credentials: Make sure the agent is licensed and has any relevant certifications.

Reputation: Ask friends, family, and colleagues for recommendations. You can also read online reviews to get a sense of the agent's reputation.

Personality and communication style: It is important to feel comfortable with the agent you choose. Make sure they are someone you can trust and communicate effectively with.
How to work with a real estate expert
Once you have chosen a real estate expert, it is important to be upfront with them about your needs and goals. This will help them to best serve you.
Here are a few tips for working with a real estate expert:
Be clear about your budget and timeline.

Communicate your needs and wants.

Be honest about your expectations.

Be responsive and flexible.
Conclusion
Partnering with a true real estate expert is one of the best decisions you can make when buying or selling a home. These experts can provide you with the guidance, support, and expertise you need to navigate the dynamic housing market and make informed and confident decisions.
Here are some additional tips for working with a real estate expert:
Ask questions. Don't be afraid to ask questions about the market, the process, or anything else that is on your mind.

Get everything in writing. Once you have reached an agreement with your agent, make sure to get it in writing. This will help to avoid any misunderstandings or disputes down the road.

Trust your gut. If you don't feel comfortable with something, speak up. You should feel confident in your agent and their ability to help you achieve your goals.
Buying or selling a home is a major life event, and it should be an enjoyable one. Working with a true real estate expert can help to make the process as smooth and stress-free as possible.